Agneta Kingma / Marijke Kingma-Planten
log in voor tekstopties


Journey to Brazil from December 8th 1925 to March 23rd 1926
In 1926 Agneta Kingma , Netje, visits, together with their father Jan, her two brothers Marten en Jan in Mantiqueira, Brazil. Marijke Kingma-Planten made a summary of the notebook Netje kept of the journey. The sentences in italic are Netjes literal text. (translated in English by Wytske Roodbergen)
Netjes original notebook is by the Van Erp family, the summary is an extra chapter in the Dutch edition of Victor Kingma's book "Van Friesland naar Mantiqueira".
Impressions of the journey to Brazil
Tuesday December 8th 1925 father Jan and sister Agneta board the Orania. During the first couple of days, Netje is seasick. What I remember most about Southampton, Cherbourg and Vigo is how happy I was that the ship was moored for some time. At least for a short while I felt less miserable. In Lisbon there is time to go ashore and explore the city. On December 15th the ship moors in Las Palmas to take on board 1,250 tons of oil.
Thursday December 17th
It's getting really hot now; we put on our summer clothes. By now, all we see around us is water. Our daily schedule: ± 7:00 AM on deck, 7:30 the breakfast gong rings and we rush to the dining room. After breakfast we take our books et cetera and relax in a chair. Around 10:30 there's a cup of soup (not Maggi, something similar), we walk around some and go back to our chairs. 12:30 is lunch time. They serve a whole menu, so it's fine to skip a course here and there. After lunch we relax, tired after all the excitement, then we read, talk et cetera. 3:30 PM the gong rings for tea and biscuits (plenty!), served in the dining room. By 6 o'clock we gather on deck to watch the sunset. We dine at 7:00 PM and at 10:00 PM sandwiches are being served. Life on board is very pleasant and cozy. People chat all the time and after a few days, everybody knows everybody.
Yesterday I picked up my study of Portuguese. It's a strange language. Whenever you think you pronounce a word right, people correct you. Their version of the word sounds nothing like what you just said.
Netje enjoys very much the cinema and two dances. She loves the flying fish, the wonderful weather and views of the ocean and the skies. Early in the morning on Wednesday December 23rd the coast of Brazil comes into sight. At 8:30 AM the ship docks in Pernambuco and passengers can go ashore to do some sightseeing. The next day the ship docks in the bay of Bahia, to take on board tobacco. Christmas is celebrated on the ship. There's special currant bread at breakfast and in the evening, at 7 o'clock, a Christmas diner in the beautifully decorated dining room, followed by a dance.
Sunday December 27th 1926
On deck at 5:00 AM - Rio is in sight! At 7:30 we all go to see the doctor who has come on board, then the police and after that we're finally allowed to go ashore. Jan, Frerichs and one of Jan's brother-in-laws are waiting for us. First through customs, then by car to Frerichs' house, where we are welcomed by Frau Frerichs. In the afternoon we go to the port and the telegraph office, and send a telegram to the Netherlands and to Mantiqueira. Then we go to the beach. Everything is so beautiful, I don't have the words to describe it. There are many cow stables where you can see the livestock and drink a glass of milk at the counter.
Monday December 28th. We take the tram to Alto Boa Vista and enjoy the splendid views. Most of the ladies powder their faces – lots of peach faces with pretty red lips (horrible). They wear too much jewelry, often 4 or 5 strings of large pearls around their necks and some 4 broad golden bracelets on each arm. Very amusing are the dressy negro ladies. As dark as they are, they walk around in pink, blue or white satin dresses and, just like white ladies, they wear lots of jewelry.
Thursday December 31st . Early rise. At 5:00 AM the car takes us to the train station for our trip to Mantiqueira. The journey is amazing and wonderful – there is just too much to see.
In Mantiqueira the little factory train is waiting for us, and 4 of my brother's girls and some other relatives. After a short trip of about a quarter, we arrive at the factory and the house my brother lives. We are where we want to be. It's awfully pretty here, between the mountains. The sound of the cascade used for the factory can be heard everywhere. My nieces and my little cousin are very nice. They clearly have to get used to their grandfather and aunt, and do look somewhat puzzled. I'm sure this will pass once we understand each other slightly better.
People are very friendly with each other, one is hardly ever alone. Every visitor is welcome and there's always room to stay the night.
Tuesday January 5th 1926. Many visitors. A pity we can't talk to them. This language is peculiar. I often make funny mistakes.
Thursday January 7th. Yesterday Boeke and his son came to visit – in Dutch! Lessons by a Brazilian man who knows some French (book keeper of the firm).
Saturday afternoon we visit a former cheese factory. The first in Brazil.
Monday with Jan, Maria and Rita to Palmyra. Nice little town, very expensive. Saw the factory of Mr. Boeke. Very interesting.
Monday January 25th. Born: Jan José Geralde Kingma, 8 pounds and 3 ounces. *)
Netje enjoys the nature, the surroundings and the area. She observes the many different people and social groups she sees and meets. February 10th Netje and her father go to Rio with Mr. Frerichs for the carnival. They stay with the Frerichs family, walk around town, go shopping and watch the parades of cars and groups of people in costumes. Many of them quite vulgar, some nice and beautiful. Carnival is in the afternoon and evening, and often they go to dance parties afterward. They don't come home until the early hours. By February 17th carnival is over. Netje stays in Rio for another week, visiting people and going shopping. She visits the museum in the palace of Pedro II and goes to Sylvester, a town up in the mountains.
February 24th they take a train back to Mantiqueira. In their last month with their relatives Netje goes riding with her brothers Marten and Jan, to Cologne and Santos Dumont's house. Father Jan joins a train excursion to Barbacena, at 1600 m. They meet with Baron von Knobelsdorff and Dr. Dobbelman, visit the agricultural school's garden, the silk weavery, and the church.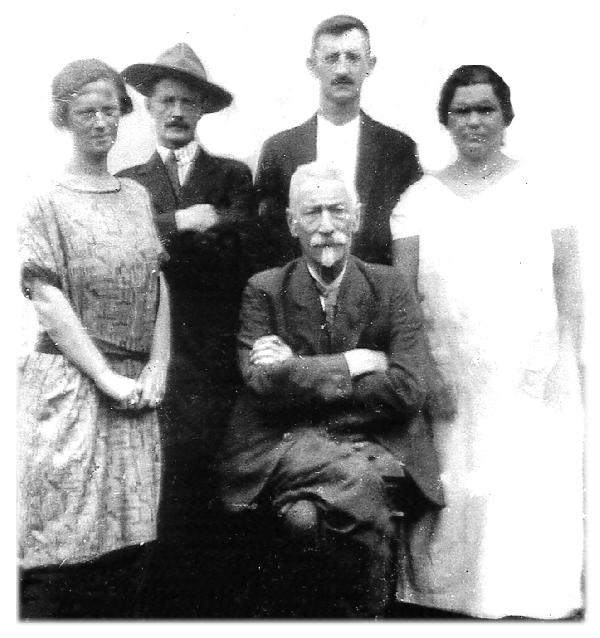 Sister Agneta, the brothers Marten and João Kingma, spouse Maria Luiza and father Jan in 1926
Wednesday March 10th . Rain, rain, rain. We say goodbye to Mantiqueira, the entire Kingma family comes to see us off to the station of Mantiqueira - except for little Jan. At 10:30 we arrive in Rio, Herr und Frau Frerichs pick us up.
Their last 14 days in Brazil, father and daughter do some sightseeing and take it easy. They visit Sacco de Sao Francisco (pilgrim cave), Alto Boa Vista, Petropolis and Independencia. On March 12th they celebrate Marten's birthday, March 19th Frau Frerichs'.
Tuesday March 23rd 1926
At noon the car comes to take us to the ship. Marten, Herr und Frau Frerichs and Mr. Sanders see us off. On the dock Madame Mora and her daughter are waiting with a beautiful bouquet of roses. All come on board.
At 3:00 PM the ship sails, and we turn our backs upon Rio. In the evening we watch a movie. Once again the long journey has started …
*) Grandfather Jan's eighth grandchild in Brazil